The Competitive Club is divided into a number of development and performance squads based on age and ability. Gymnastics is a physically challenging sport and only those gymnasts demonstrating the necessary capability and commitment will be able to progress into the competitive club. Entry into the competitive club is by invitation only.
Our competitive gymnasts have the opportunity to take part in Scottish and British level competitions as well as other competitions appropriate to their level of ability and may participate in training camps and competitions across the UK and internationally.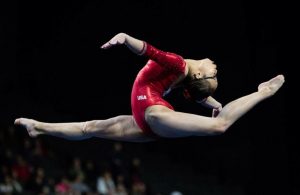 Competitive squad gymnasts are expected to attend the required amount of weekly training sessions in order to benefit from their training programme, meet their training objectives and maintian their squad place.
Competitive gymnasts may also be invited to trial for places in Regional and National squads.
Progression for competitive gymnasts involves a large commitment from both gymnasts and parents. Travel to training sessions and overnight stays are a necessary feature of a competitive gymnasts schedule. Regular attendance at training sessions is vital if your daughter wishes to increase her repertoire of gymnastics skills and both maintain and improve her level of fitness.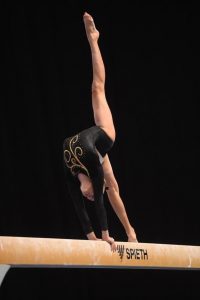 Success in gymnastics takes a great deal of dedication and many years of hard work. Gymnastics is the most demanding of all sports, but also one of the most exhilarating and satisfying for both participants and spectators alike.
To contact the Aberdeen Gymnastics Club, please email: